Metropolis!...
February 13th, 2010 (08:29 pm)
Last night was the world premiere of the new restoration of Franz Lang's Metropolis (1927), incorporating the elements from the print found in Buenos Aires in 2008. It was screened simultaneously at the Alte Oper in Frankfurt and at the Friedrichstadtpalast in Berlin as part of the Berlin Film Festival (Berlinale # 60, to boot); the Berlin performance also was simulcast on a screen at the Brandenburg Gate.

ARTE-TV also had a live feed from the gate (looks like on Unter der Linden), with German / French commentary and a number of short documentary clips about the restoration / scoring. Despite idling vehicles, people almost walking into the camera, the camera broadcasting a "low battery" message, and a man walking his dog suddenly frantically waving at the camera, it was still an interesting view. (A little too far from the screen to actually see the movie, though.)

Looking from the back of the crowd with the camera, there was more a sense of the audience than of the movie. Those at the edges of the crowd stayed long enough to say they were there, but the hardcore viewers grouped at the front lasted through the lack of chairs, the scattered snowflakes and hopping up and down to keep warm.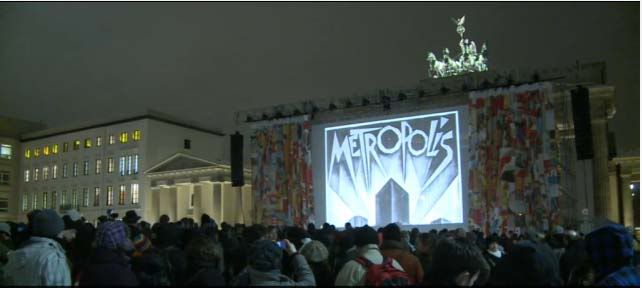 I actually could only watch bits and pieces (I was at work, after all), but - oh how I wish I could've been there... From what I was able to see (from a distance, in German), the story of the mysterious 11811, at least, is laid out in much more detail.
Some info about this version:
CANNOT wait for the US premiere to get here; it's apparently going to be through Turner Classic movies (although with the Alloy Orchestra) - I guess no NYFF (although I bet it shows up at Lincoln Center at some point). And, of course, DVD to follow.
And - Wikipedia has rumors (although not yet substantiated) of yet *another* possible copy being found in New Zealand. After decades of the butchered version (which was only increased to 75% with the 2001 restoration), we may yet get the complete print as Lang put it together!