NYFF: Film the First!
October 2nd, 2010 (10:03 pm)
An inauspicious start: a rainy day and a delayed train meant I was late to my first movie at the 2010 New York Film Festival. Fortunately the short, All Flowers in Time, was still playing; unfortunately, missing the first few minutes was like missing the first few minutes of The Last of Sheila - when, well, Sheila shows up, is murdered, and never appears again. It looked good but I had *no* idea what was going on, except it was really, really trippy. Really trippy. A-woman-and-a-boy-shapeshifting-for-fun trippy. And it went on and on, until I really started wondering if I'd wandered into the wrong place... but I'm getting off track. Soon enough the short ended, the feature began, and I knew I was definitely in the right place.

© 2010 D. Gordon
Oki's Movie (옥희의 영화), Hong Sang-soo, 2010.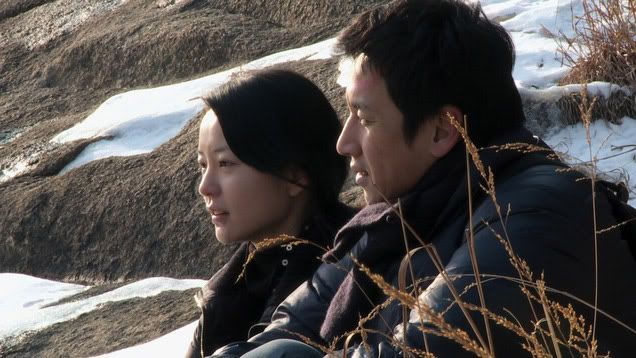 from Cineanon
Oki's Movie is the sixth Hong Sang-soo film to play the film festival, and the fourth I've seen, period: I mentioned Woman on the Beach in 2006, I wanted to mention Night and Day at Pusan in 2008 but I still haven't seen the last half hour (and THERE IS NO DVD, DAMMIT), and I just saw The Day A Pig Fell Into the Well (thanks, Yuni) a few weeks back so haven't had a chance to mention it. By now Hong has an established a track record so that the "but isn't he being misogynistic" conversation should be over; if it was ever an issue – and I don't know either way – it's stayed in his earlier films. As Hong said during the Q&A: he can't make movies about everything, so he writes about specific characters in the world he knows: a professional-class Korea peopled by self-centered men who think the universe revolves around them and quirky atypical women who make an effort to navigate that morass. Although "make an effort" isn't exactly what's going on: they find something interesting in the middle of it all, and weigh the good against the bad. If (more like when) it doesn't work for them, then – they're gone.

Fortunately, Hong has avoided making one-note movies, primarily by expanding his gaze and his story with each successive film. Oki's Movie is another step in that progression. The film itself is divided into four "mini-films," reflecting student film projects which could have been made by the inhabitants of a university film program. First, there's Jin-gu (Lee Sun-kyun), a student director of some talent. He chases any available women he meets (although they have to be single), wonders why his wife has grown distant, drinks too much, and feels frustrated that he can't get funding for his projects. He pursues Oki, one of his fellow students, but can't understand why she doesn't succumb to his declarations. When you come down to it, he's a typical Hong male protagonist, in his full glory.

Then there's Professor Song (Moon Sung-keun). More an active director than an academic, his presence at the school reflects the funding he brings to the program rather than any knowledge he's likely to impart. As a result, most people kiss his ass, although a drunk Jin-gu fumbles his chance to get on the man's good side. The professor is a little more refined than Jin-gu, but that could be because life has added a veneer to him that Jin-gu hasn't had a chance to develop yet: he's just as self-centered, narrowly concentrating on his work; he's also married but in a serious relationship with Oki; and he's jealous of Jin-gu's interest in Oki and possessive enough to demand she completely cut off the other man. But there's no real effort to consider what he might owe to the school as a member of the faculty, to Jin-gu as his instructor, or to Oki as his lover.

And then there's Oki (Jung Yumi). She appears as the demurely-dressed "nice girl" who's a bit lost, in danger of not completing her student film, and not quite clear what she's doing in the program anyway. But looks can be deceiving: she's aware enough to not fall for Jin-gu's speeches (it's his *actions* that make her rethink things), asks a friend why everyone seems to almost randomly fall in love with her, and over time shows herself to reflect a lot more on life than her demeanor would indicate. Maybe in the end this is truly Oki's film; she's not as blind as she seems. Maybe it's that there's not much difference between the two men to be seen.

I'm a little late to them, but I'm really growing to appreciate Hong Sang-soo's films. They have some stumbles: there's a bit of the "let's film two people looking at each other," in scenes (although he filmed this during winter break at the school where he teaches, not sure where he was taking it, and the story expanded as he shot it - so there was little preproduction), but his films are growing fuller and more reflective in the story they tell. He also has a deft hand at telling this story; there are some genuinely laugh-inducing sections with a certain sense of spontaneity (the Q&A session for Jin-gu's student film is hilarious – and telling at the same time). And all of this effort is in direct service to the characterization.

And characterization is everything here. He evokes an everyday existence with recognizable, if not completely likable, characters. While his men are basically jerks and his women nebulous about their connections to them, he continually refines how that plays out on the screen – and over time he's added a transition point, where the story moves away from the male to the female, which becomes clearer and clearer in each film. From what I've seen: The Day a Pig Fell Into the Well (1996) gives an almost 100% male perspective, and in fact the relationships end up destroying one of the women. By 2006's Woman on the Beach, things are better: Moon-sook leaves a clear imprint that haunts Director Kim although he isn't completely able to recognize that. But this seems to be the first time (drat that Night and Day) that Hong completely switches to his female character's gaze – and scorchingly turns it on the males.

It's time for me to review some more of Hong Sang-soo's work (and I have a gift from the Korean Film Council to read).

Now if we could just get Night and Day on DVD...