Julie & Julia, et al
March 6th, 2011 (11:14 pm)
Remember Julie & Julia? The story (at least partially) of how Julia Child worked herself into becoming Julia Child, and Julie Powell worked herself from a blog into a career?

Most people know that that story started when Powell decided to make all 524 recipes in Mastering the Art of French Cooking in 365 days.

Well, now there's Lawrence Dai and the The Lawrence/Julie & Julia Project. Lawrence takes it one step further, deciding to watch Julie and Julia every day for a year and blog about *that*.

He's currently at Day 97. And yeah, it's going about as well as you might think at this point:

Day 1: I promise to dedicate as much of my attention as I can to this incredible, generation-defining film and the blog entries that accompany it.

Day 95: Wake up, Julie Powell. You don't get points for doing something completely derivative of someone else's life's work. - above a picture of him in the same pose at his keyboard as Julie Powell is at her keyboard and Julia Child is at her typewriter. Un-hunh.
At least he has a sense of humor about the whole thing... so far: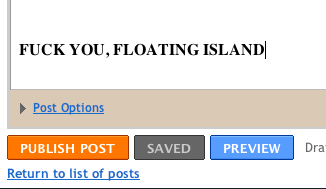 from lawrenceandjulieandjulia.blogspot.com